Opportunity details Seed Funding Available For Community Choirs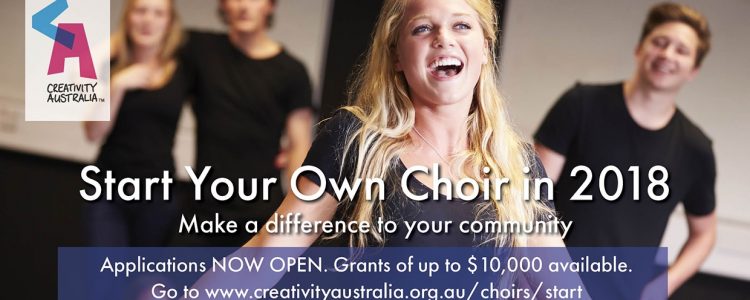 What is on offer?
Creativity Australia is building a happier, healthier, more inclusive nation, through the neuro-scientific benefits of community singing. The With One Voice Social Franchise program is about building supportive networks, strengthening diverse communities and inspiring individuals to find their voice.
http://www.creativityaustralia.org.au/choirs/start/ 
Together, we can change the world… one voice at a time. With One Voice choirs are led by professional conductors, rehearse weekly followed by supper and perform at community and corporate events.
To make it easier for communities to start their own choir, Creativity Australia is offering a limited number of start-up funding grants of up to $10,000. Successful applicants will receive the start-up grant and join a 12-month intensive mentoring program to guide them through the process of building their own With One Voice Social Franchise choir.
Success is determined by our unique "Health of Choirs" indicators that measure member engagement and participation through our personalised program App. During the first six months one of our program staff will mentor the organizing committee to interpret the indicators and use them to focus their efforts to lay a strong foundation for the choir to succeed, be socially inclusive and build community wellbeing and inspirational outcomes for participants.
There are seven key components to the With One Voice Social Franchise program:
bringing together a diverse range of local community individuals and organisations to promote, commence and participate in the program
finding an extraordinary music leader (who is empathetic and inspiring)
finding a safe, nurturing space to sing (that is accessible and close to public transport or infrastructure)
seeking out diversity (all are welcome…all ages, backgrounds and cultures…no auditions)
showcasing your choir … share the love (perform locally, celebrate accomplishments)
nurturing social connections (rehearse weekly, share supper, share the "Wish List")
building sustainability (develop community & business connections, recruit some helpers, start fundraising).
Who is the opportunity for? Start-up community choirs
Who is providing the opportunity? Creativity Australia
Who is eligible and what is required? Community groups interested in starting a local choir; you must apply for funding
What is the closing date or deadline? 31 August, 2018
How much does it cost? FREE, though you must apply by the deadline to be considered
How do people book or get involved? Contact Nathan Lang, Creativity Australia or go online http://www.creativityaustralia.org.au/choirs/start/
Contact person Nathan Lang
Contact Telephone (03) 8679-6088
Contact email address nathan@creativityaustralia.org.au