The City as a Stage
By Ailsa Brackley du Bois
The concept of the city as a public stage, or indeed as a canvas, upon which both visual and performing artists can inscribe their works, en masse, is not a new one, and can take many forms.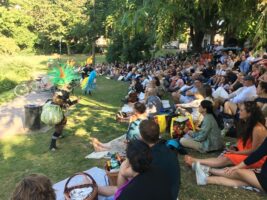 Illumination festivals are clearly making a comeback in recent times, as is apparent with the success of White Night Melbourne and Ballarat, along with a raft of similar events across Australia[1]. The popularity of these seems to be a global phenomenon of late[2]. Yet, some English cities have held such festivals continuously since the 19th Century:  Blackpool Illuminations and Light Pool began in 1879[3]. These festivals combine the illumination of built or natural sites, and entwine art and music of various types, to create a dramatic experience for visitors, shifting reality toward fantasy. The best of them ensure unique site-specific installations and performances that reflect the particularities of the city's own location, aesthetics, architecture and people, rather than a generic roll-out of anonymous, pre-manufactured 'one-size-fits-all' displays.
Given my interest in how cities and their people endeavour to tell their own stories in artful ways, I recently attended several European events that engaged with the city as a stage[4].
In Copenhagen, I took part in the city-wide CPH Stage Festival, as an 'International Industry Program' delegate. This involved attending seminars and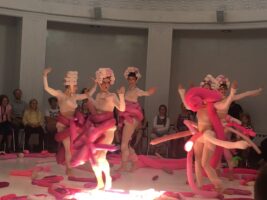 workshops, and viewing a wide variety of live performances in diverse spaces and places. CPH Stage takes a truly democratic approach to physical space by not only showcasing work in all sorts of unexpected locations, such as remote maritime backwaters, abandoned city precincts and rejuvenated crematoriums, but also by virtue of having a nomadic festival hub which changes location completely each year. This year, the administration and core venues for CPH Stage were stationed in the old 'Meatpacking District' which gave it immense brown brick charm, but created the impression that it was an alternative or fringe festival. Last year, in contrast, it was positioned in the ultra-opulent and high-brow Royal Danish Theatre. The entire feel of this festival morphs each year depending on which part of the city it uses as its base. While there, I met with the CPH Stage Director; as well as the Artistic Directors' of three other Danish Festivals[5], and two English Festivals[6]. Each Festival situates diverse performances across the cities they occupy, aiming to be as inclusive as possible.
In Venice, I attended and presented at the 'City, Space and Spectacle in 19th Century Performance' conference, hosted by Warwick University, located in a 16th Century Palace on the Grand Canal. The content of the sessions were about the role and character of the city, as a setting for spectacular stage drama, festivals, carnivals, street theatre, and as an enlivened context for the performative interactions of everyday life. There were countless fascinating stories drawn from this ornate and bygone age of melodrama.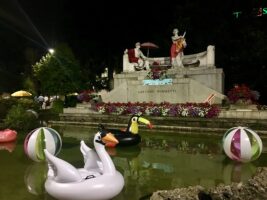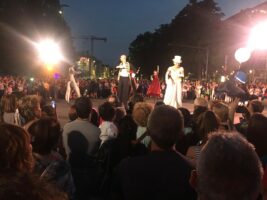 In Bergamo, North of Milan, I had the pleasure of roaming downtown for the annual Donizetti Night, a city-wide celebration of the many operatic possibilities for reinterpreting the work of their proudest off-spring. There truly was something for everybody in the smiling crowds, and it seems to me that's at the heart of what makes the use of one's own urban architecture and cityscape so enchanting and powerful as a backdrop for public art. Long may this global resurgence reign!
_________________________________________
[1] Vivid Sydney, Light-Up Brisbane, Canberra Enlighten Festival, Perth's Kaliedescope Illumination.
[2] Thailand has an illumination festival, based on Japan's well-established Winter Illumination Festival. England's Lumiere Durham recently inspired a partnership with Lumiere London.
[3] This recently triggered the Light up the North network of like-minded festivals.
[4] Ailsa's flights were covered by Regional Arts Victoria, under a Professional Development Grant as an international delegate at the 2018 Copenhagen Stage Festival 'Never Not Spectacular', as well as theatrical site visits in Venice, Vicenza and Verona. Ailsa extends her sincere thanks to the Australian Federal Government's Regional Arts Fund, provided through Regional Arts Australia, and administered in Victoria by Regional Arts Victoria.
[5] Metropolis Festival, Cantabile2 Festival and Passage Festival
[6] Skegness' SO Festival and Manchester International Festival