Lola at the Provincial Hotel
Amie Brûlée
 Lola at The Provincial Hotel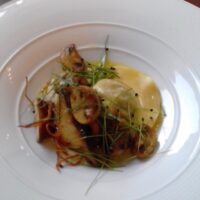 There was no fanfare, no grand party, no wholesale facebook campaign, The Provincial just quietly opened its doors in its new costume – elegant, feminine and light. After the monochrome renovation of 2014, it's a welcome change to see some colour and design in the interior of this grand old building. Built in 1909, The Provincial is a stunning example of Edwardian architecture with all the wonder and delight of the Art Nouveau period. Its domed towers, banded brickwork and curvaceous detail lend an air of flamboyant old-world sophistication to the northern end of Lydiard Street, balanced by the train station's clocktower on the opposite side. Step inside and you're met with the elegant, blue interior of Lola, The Provincial's restaurant. It's bright and airy, and little details such as the white external canopies over the door give just a hint of Paris.
I dined with a friend, and we had two courses each, sharing entrée and dessert. The pre-dinner slice of grilled focaccia boded well – light, tasty and just the right size. The confit duck ravioli with Jerusalem artichoke and mushrooms was tasty and interesting with well-balanced textures. Likewise, the pan fried gnocchi with blue cheese, pumpkin, sage and hazelnuts – a visual delight, the bright orange pumpkin almost leaping off the plate. The lamb rump was equally vibrant in green, accompanied by pea puree, zucchini, broad beans, pickled burnt onion, whipped fetta, and lemon. Both dishes were fresh and tasty, with distinct yet complimentary flavours and textures, expertly cooked and presented. We made room for dessert and shared the deconstructed pavlova, served in a glass. Again wonderfully textural, with crème patissière, passionfruit, berries, house made French vanilla ice cream, white chocolate mousse and Persian fairy floss.
There is pleasing number of wines by glass as well as bottles, mostly local with a handful of European wines on the list, and all well priced. The selection of beer, cider, spirits, and cocktails are also tempting, including the aptly named French Maid and Ms. Montez Negroni.
While the food is excellent, it's the ambiance that really makes Lola a pleasure to dine in. The service is attentive but not fussy, and staff are knowledgeable and helpful. A relaxed playlist of French-themed music sets the mood (and is interesting enough to listen to while your dinner companion goes to the toilet) and the space has a comfortable background babble where you don't feel like everyone else can hear your conversation but you don't have to raise your voice to talk. Visually it's interesting and carefully designed with flowers, original artwork on the walls, and lots of blue – French style blue and white cane chairs, very comfortable navy banquette seats, gorgeous blue wallpaper and even old blue books in the restrooms.
Finally Ballarat has an elegant, pretty venue – the perfect place for a Friday evening when you want something a little sophisticated. You'll find me sitting outside on summer evenings with glass of Lick Pier ginger beer, dressed in Lola blue.
The Provincial Hotel 121 Lydiard St North, Ballarat. Open daily for breakfast, lunch and dinner.