Time and Place
02/09/2016 @ 6:00 pm

-

01/10/2016 @ 1:00 pm

Free
Join us for the Opening of Time and Place !! Details Below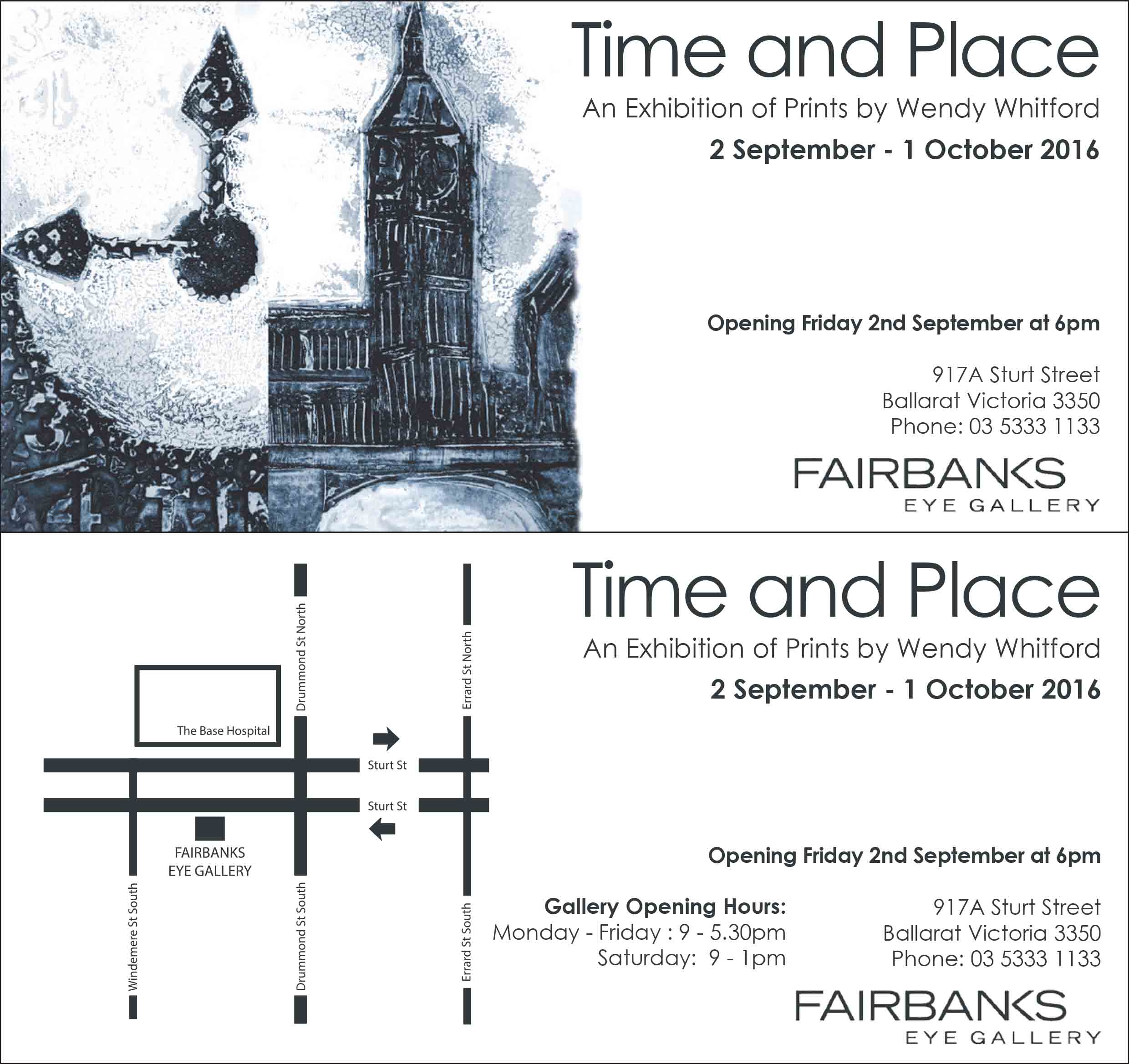 Wendy Whitford.
Born, raised and educated in this city, years later Wendy is still proud to call Ballarat Home.
She was first introduced to artmaking at the age of four when she started kindergarten. This was in the days before texta colours existed, when the teacher had to mix coloured powder in water to make the paint which was applied enthusiastically with large brushes to sheets of white butcher's paper. She sometimes had to be dragged away forcibly to join in other activities like playing in the dolls' corner, which was not to her taste at all.  A notable work from this early period was of a man lying in bed with a broken leg. She did not understand her mother's mirth at the leg being propped up against the end of the bed well away from the patient.
She continued to paint and draw and attended evening Life Drawing classes at the School of Mines as a teenager conducted by Geoffrey Mainwaring, and later studied in a group with noted artist Edward Heffernan. Circumstances dictated that she was not able to undertake full time formal art training until her thirties, when, as a mother of school aged children, she completed a Diploma of Art at what was then BCAE, now Federation University.
During this time she was introduced to printmaking by Satish Sharma,and has alternated printmaking with painting until the present day. Her graduation present to herself was an etching press.
She has had several Solo exhibitions, mainly of her paintings, but sometimes with a few prints included, and has taken part in many group shows over the years. As a change of pace, for this exhibition, she has chosen to concentrate on prints.
Although Ballarat is home she has travelled widely in Australia and overseas and has spent considerable time in London. The subject of this exhibition 'Time and Place' brings together two strands of interest. The 'Time' element began with a print inspired by her grandmother's mantel clock which she inherited.This led to depicting various types of clocks and then on to other aspects of 'Time'. 'Place' covers a wide range of locations from  domestic interiors to far flung places which she has visited, including China, Russia and Italy as well as parts of Australia, often depicted with a quirky twist.
Over the years she was a long serving voluntary guide at the Ballarat Art Gallery and is now a member of the Soldiers Hill Artists Collective, keen to promote local art and artists.