SHAC ART WALK 2017
13/05/2017 @ 10:00 am

-

28/05/2017 @ 5:00 pm

Free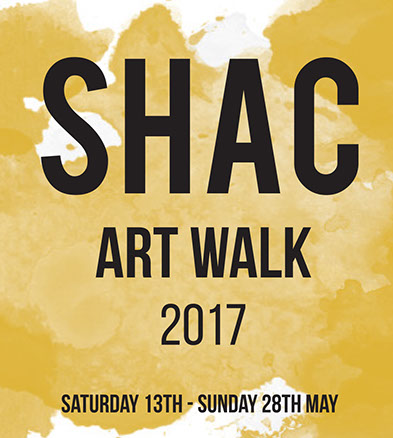 SHAC ART WALK 2017
May 13th – 28th 2017
The launch of this year's Art Walk begins upstairs at Seymour's, at 7 pm on Thursday 11th May.
The self-guided walk through the streets of Soldiers Hill will be open to the public from Saturday 13th May until Sunday 28th May.
The venues exhibiting this year are six shopfronts and four private residences/studios. The private residences will be open at the weekends only.
Fourteen local artists' work will be exhibited and they include:
Ian Kemp – Photographer
Aldona Kmiec – Photographer
David O'Callaghan – Varied Media
Jan Leishman – Woven Tapestry
Elaine Wheildon – Oils, Linocuts
Lorraine Huddle – Photography
Christine Norden – Installation, Mixed Media & Fibre
Pete Gregg – Timber, Metal & Rubber
Lynne Makings – Mixed Media
Lauren Clark – Ceramic Sculpture
Cliff Adeney – Watercolours
Magda Kazmierczak – Digital Painting
Judith Bryce – Fibre Art
Jimmy Pasakos – Prints
Jannine Bennett – Photography
The variety of artwork includes painting, printmaking, ceramic sculptures, work in varied & mixed media, installation, fibre art, digital painting and photography.
Venues are identified by yellow squares on the footpaths. The map for the Art Walk is available from Minerva's Books, Ballarat Art Gallery, Ballarat Visitor Information Centre, local cafes in Soldiers Hill as well as other venues.
SHAC is a diverse group of artists who all live in Soldiers Hill. They are focused on maintaining a sustainable framework for art projects within Soldiers Hill and creating a suburb that is both externally and internally identified as a place where creativity is valued and promoted as a community virtue.
'Soldiers Hill contains a vibrant group of artists who are producing exciting and high quality work. The Art Walk allows them to share it and show it in their neighbourhood.'

– Cliff Adeney, Chair SHAC
All works of art are for sale directly from the artist.
The map of the Art Walk is available on www.shacballarat.com.au as well as on SHAC's Facebook and Instagram.
More information about the Art Walk is available from:
Cliff Adeney 0417 136942 adeney.c@hotmail.com
Judith Bryce 0414 536383 judith.bryce@gmail.com
Ian Kemp 0429 414797 chplains@bigpond.com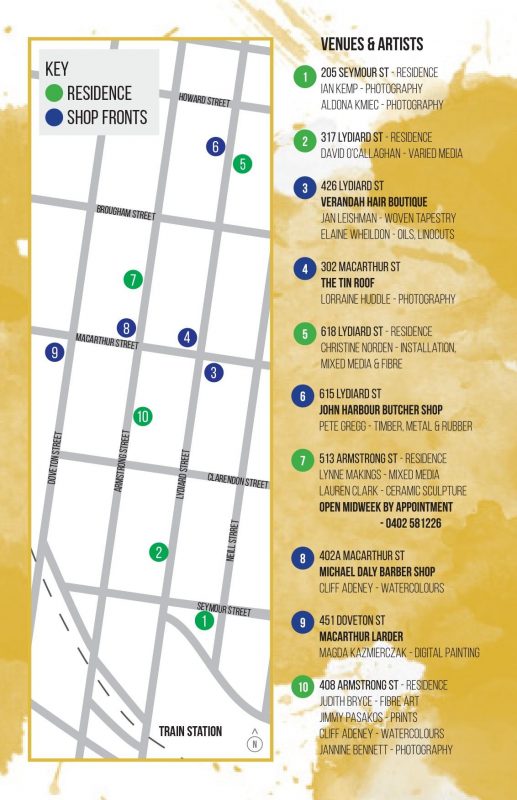 Related Events