Picasso and His Dog
12/04/2019 @ 11:00 am

-

12:00 pm

$12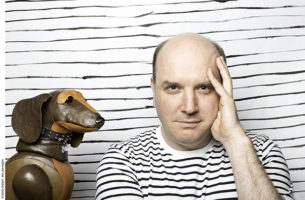 For anyone who's ever patted a dog or been moved by an artwork.
One fine spring morning in 1957, Lump arrived for lunch. Lump was an elongated sausage dog with floppy ears and an inquisitive nature. He looked around at Picasso's villa and then into the deep, brown eyes of the man himself and decided he was home. From this first meeting, a deep love was forged between Picasso and Lump. He was also an inspiration for Picasso, appearing in fifty-four of the artist's works. Lump lived with Picasso for 16 years. In a perfect ending, perhaps not content with life on earth without each other, both died in the same year.
Inspired by this true story, Picasso and His Dog, is a delightful show that celebrates the animals with whom we share our lives while exploring what it is to be creative and to create.
This work is a unique children's puppet play that combines the art and story of Picasso with the extraordinary poems of Chilean poet Pablo Neruda and the text of Picasso's contemporary and lifelong friend, Gertrude Stein. It is a refreshingly original work, wild and adventurous. Initially set in Picasso's studio in the south of France, the story travels across time and space in a series of imaginative leaps using puppetry to transform the detailed set design as the performers play with scale, shadow puppetry, visual illusions, painting and sculpting on stage.
This beautiful show is suitable for everyone, for children 4+, and is being held in the school holidays for families to attend.
Run time – 55 minutes, no interval
Children 12 and under – $12
Tickets
Related Events