duoBliss! Concert: GREEN at Trades Hall
February 18 @ 7:30 pm

-

9:30 pm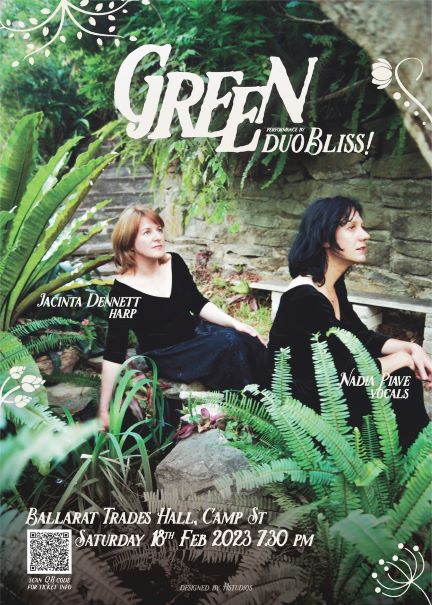 Italo-Australian vocalist Nadia Piave and Ballarat-born harpist Jacinta Dennett have been playing as duoBliss! since the 1990s—they explore shades, tones and complexities of green in compositions that include the colour in their titles, lyrics or themes.
With songs from the 1500s to now, GREEN defies genre by interpreting evergreens like Greensleeves (it's not about ice cream trucks!), Robert Burns's Green Grow the Rashes, and Kate Bush's Wuthering Heights, where the jealous lovers "roll and fall in green".
Of course, the song made famous by Kermit the Frog is re-visited, as are compositions by over 20 artists including Joni Mitchel, Miles Davis, Tom Waits and Green Day.
"An athletically virtuosic and sublimely colourful display of artistry from Dennett"– Loud Mouth 
"Nadia sings with passion, anguish, wistfulness, and yearning, colouring these songs with a palette of smoky hues" – Sounds Like Sydney
Related Events