Art/Work @ Fairbanks Eye Gallery
07/06/2013 @ 6:00 pm

-

05/07/2013 @ 5:30 pm

FREE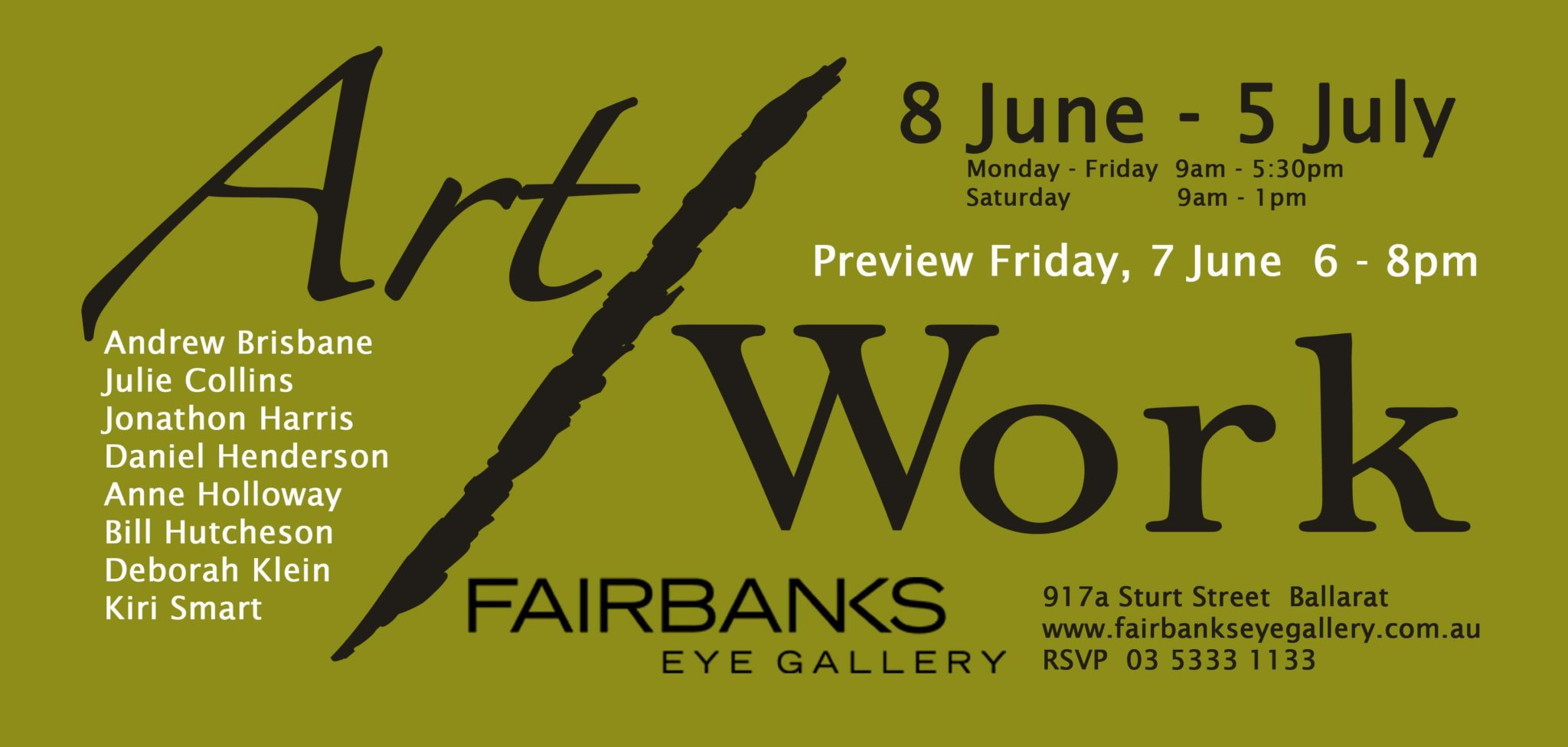 Art/Work: Making Ballarat A Creative City
WHO               Andrew Brisbane, Julie Collins, Jonathon Harris, Daniel
Henderson, Anne Holloway, Bill Hutcheson, Deborah Klein,
Kiri Smart
WHAT             Art/Work    A group exhibition of work by eight artists whose
day jobs involve the City of Ballarat
WHEN                         Opening Friday, 7 June 6 – 8pm    Continuing through 5 July
WHERE            Fairbanks Eye Gallery   917a Sturt Street  Ballarat
By day a mild-mannered City of Ballarat employee:  working with community members, supporting and implementing the many activities of our fair city – but by night a creative dynamo:  writing, drawing, painting, sculpting, filming, singing, dancing, composing, photographing, performing, printing…
Most artists have day jobs, and for those participating in Art/Work, that day job involves customer service and community consultation. Eight Council workers – ranging from Unit Managers to Program Coordinators to Service Staff – have come together for this inaugural survey of the talent hidden behind the ubiquitous Council swipe card. Each draws from a different arts discipline, each has an intriguing story to tell about the professional evolution that brought them to Ballarat, and all enjoy a diverse creative life in their
off-hours.
Art/Work is where those staffers put their bone fides on the table, demonstrating the inspiration that feeds the work that is shaping Ballarat as a truly 21st Century Creative City.  As eclectic as its participants, the resulting Art/Work includes paintings, performance video, photography, cartooning, publishing, sculpture, and dimensional illustration. And this show is but the tip of the iceberg that is the talent and innovative thinking at work in Ballarat.