Art Exhibition: Embracing Impermanence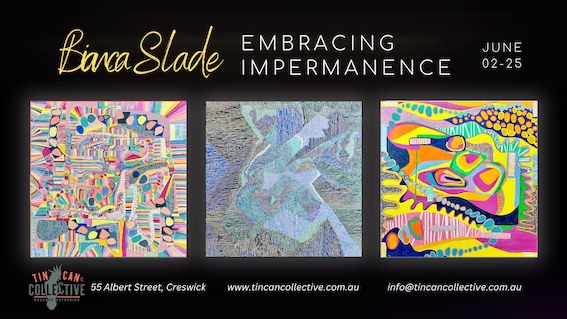 Art Exhibition Opening Embracing Impermanence by Bianca Slade at Tin Can Collective
"Embracing Impermanence: A Journey of Hope."
Tin Can Collective invites art enthusiasts and the local community to experience emerging artist Bianca Slade's latest exhibition, which delves into the profound themes of resilience, self-discovery, and the transformative power of creativity. Titled "Embracing Impermanence: A Journey of Hope," the exhibition will be held at Tin Can Collective, located at 55 Albert Street, Creswick, from June 2nd to Sunday 25th June 2023.
"Embracing Impermanence: A Journey of Hope" unveils a collection of mesmerising artworks that encapsulate Bianca Slade's personal journey of rediscovery and acceptance. Through her intricate brushstrokes, Slade reflects upon the complexities of life's transitions, drawing inspiration from her own experiences of facing unexpected challenges and finding solace in art.
As an accomplished recipe developer, food photographer and stylist, Bianca Slade is known for capturing the beauty and audacity of what we eat. With her other guise as the founder of Wholefood Simply, she has created stunning visual narratives that evoke emotions and ignite the senses. Slade's multifaceted artistic journey from her rural beginnings in Penshurst, Victoria to the Outback and now to Ballarat has influenced her unique perspective, infusing her work with a deep connection to nature and a profound appreciation for the everyday.
"Embracing Impermanence: A Journey of Hope" celebrates the beauty found in the present moment, in the everyday and ordinary aspects of life. Slade's artistic exploration invites audiences to embrace their own imperfections, to unite all facets of their being without judgment or separation. In her own words, Bianca Slade shares, "Through my art, I seek to capture the essence of life's fleeting moments, reminding viewers to find solace and inspiration in the here and now."
Hours are Friday and Saturdays 10am to 4pm or by appointment.
Related Events