Art Meets Nature
16/11/2018 @ 10:00 am

-

25/11/2018 @ 5:00 pm

Free
'Art Meets Nature' is the theme for a new WAMA exhibition to be held 16 – 25 November at the elegant Lucy McEachern Studio Gallery at Wingeel, near Inverleigh. The exhibition features work in a wide variety of mediums and styles by artists who look to the environment for inspiration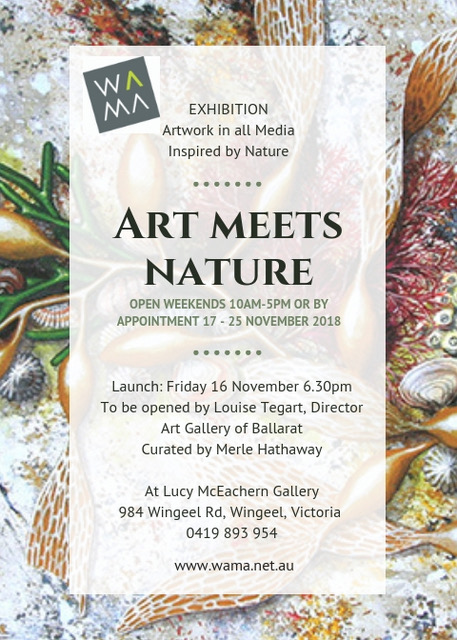 WAMA is a project to establish in the Halls Gap area a world-class botanic gardens and gallery to feature art inspired by nature.
Louise Tegart, Director of the Art Gallery of Ballarat, will open the exhibition on Friday 16 November at 6.30pm. Louise said, "I am delighted to have been asked to open the Art meets Nature exhibition. The selection of artists is extremely impressive and includes internationally and nationally renowned artists as well as Ballarat artists. The WAMA project is going to be a wonderful addition to the Central Victorian cultural landscape and I applaud them for their initiative in highlighting such an important topic as the relationship between art and nature – something that resonates with all of us".
Exhibiting artists include Janet Laurence, Lyn Dickson, Jennifer Marshall, Vida Pearson, Anton Hasell, Rosalind Lawson, Trevor Smith, Lucy McEchearn, Peter Voice, Silvio Apponyi, Steve Morvell, John Tiddy, John Pastoriza-Pinol, John Wolseley and Les Sprague.
Their work ranges from illustrative to abstract, and some are declared environmental activists. The exhibition includes paintings, drawings, photography, prints, and sculptures of hand-made paper, crotchet, felted and natural fibres, bronze and steel.
The Curator, Merle Hathaway, was a former Director of Horsham Regional Art Gallery and Executive Officer of the Public Galleries Association of Victoria.  More recently she established The Artist's Cat., a cataloguing, advice and curatorial service for artists and artist's estates.
Merle says, "I love the way these artists focus deeply on aspects of the environment. I hope that through viewing their work in this exhibition, we too will gain a deeper love and understanding of nature."
The exhibition will be open weekends from 10am to 5pm, and mid-week for groups and individuals by calling Lucy McEachern on 0419 893 954. Each weekend speakers will talk about their work and how art can be inspired by nature.
For more information about the WAMA Project visit www.WAMA.net.au
Related Events